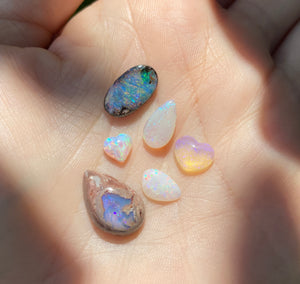 Hello friend! I'm coming to you in this month of May to talk about something a little different. Actually I had thought of writing this newsletter even before realizing that May is mental health awareness month, so now it's really fitting the theme.  While I'm feeling great today, the last couple weeks were rough!!! And I felt the urge to reach out and tell you that if you experience depression (or anxiety) I see you! And I thought that if I could lend a comforting word or a bit of hope then it was important for me to do so. ...
---
Hi friend! I had a little paint left in my tube with this whole color conversation I've been having (we've been having?) over the last few letters. Let's be real I could probably talk about color for ever more. But for now, I thought this topic wouldn't be complete without bringing in the chakras.  The truth is I get anxious at the thought of revealing my inner freak to you–but it's probably too late for that anyway. By now you know I'm an artist, I'm into crystals, meditating, and (gasp) energy! Meditation and the chakras are pretty mainstream now, not...
---
     Have you ever come across a color (in a sunset, a flower, a work of art) that really drew you in? I sometimes find that perfect hue in just the right moment; my eyes drinking in the beauty and filling my spirit. This happened with a sapphire I picked up recently, it literally made me gasp and I knew it was mine.  I'm not sure if it's just the artist in me but I've been pondering this rainbow palette that is our reality. My recent trip to India offered such a rich visual feast at every glance. Buildings...
---
Hi friend! I hope you're enjoying fall wherever you are. I'm sipping green tea and lighting up about the idea of finding treasure. As I've been exploring this theme of hidden treasure, my last few blog posts focused on what's hidden inside of us. But today I have my sights on the physical, gold coin and gems, kind of treasure.  Whenever I hear stories of people unearthing artifacts in their backyards or even scoring valuable antiques from thrift stores, I feel the thrill of possibility. Just think of all the incredible gems just waiting to be found! The Mythic Medallion...
---
A map would be nice wouldn't it? For this bumpy road called life–I wouldn't mind if someone were to point out which were the dead ends, the bridges to something better, the places where we might strike gold. In the last blog post, called Intuitive treasure hunting, I talked about the hidden treasure we have within us and how to go about uncovering it. This is our inner wisdom of course.  Today I thought I'd help you to create your own roadmap (X marks the spot!) by helping you to navigate all the ways in which your intuition can speak...